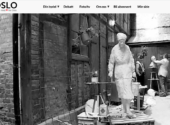 Gatebarnas Far - Vårt Oslo
The street child's father - he with the huge heart for those at the bottom
He took the matter into his own hands and contacted some of the major grocery suppliers, made lunch packages with his wife and drove it down to the drug addicts, the homeless and other disadvantaged.
- Did I forget my cap here, Tore Bjørn?
He suddenly stands there and smiles at the end of the narrow backyard with the old half-timbered house in Torggata, Arne Skarpsno - lukewarm, subtle with playful eyes - in leather vest, hoodie and a relatively powerful nose tomb - but thus without his cap, which he thinks is his very own trademark.
Ref. Our Oslo